P>

P>

P>

P>

P>

P>

P>

P>
Welcome to Wainwright Routes a website featuring walks in the English Lake District, routes to the summits of the 214 fells described in the seven volume Pictorial Guide to the Lakeland Fells by Alfred Wainwright.
The books, published between 1955 and 1966, faithfully reproduced from the author's original manuscripts, are considered by many to be works of art in their own right, an exploration of all the major fells in the Lake District complete with maps, diagrams of ascents and numerous sketches. It is the aim of this site to illustrate some of those walks through photographs.
It is well known that AW drew his sketches from photos he took while researching the guides. I have attempted to find the actual locations where he stood to take those photos and reproduce them and include them in the relevant walk. An example is shown below with the appropriate chapter and page number annotated in red font.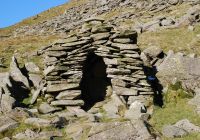 Stone shelter below the Walna Scar Pass Dow Crag - page 5

Of course to fully appreciate the above you really need to possess the guides, they are readily available in most good bookshops or directly from their publishers Frances Lincoln. The guides have all been updated with a second edition by Chris Jesty.
Navigation of the site is fairly basic, I am no webmaster!, just click on a 'book' select a fell then a route. Only those fells with links are currently available,
regular updates will appear at the top of this page. Please take time to read the site information page regarding the derived ascent times and distances, they are important. I hope that you will enjoy the photographs and thank you for visiting the site.
TD>